...Hi friends
wow, I am coming in just under the wire to post for January 4th!!!
as a ton of you already know I am obsessed with crafts,
my current obsession revolves around knitting, and I am a member of the
HPKCHC (which I explain here)
over on
Ravelry
-I wanted to share with you my OWL proposal of the School of Fish Afghan for EJ-
Please find below:
QallieQ of Slytherin, requesting to sit for the OWL in Defense Again the Dark Arts
1. Identify the pattern you will be using.
I will be knitting the Festive Fish Afghan. My friend Megan has already completed it and so will serve as a mentor when I need assistance with seaming and the crochet edge.
2. Photograph of the yarn(s)/needles/materials involved.
12 balls of My Family Baby Yarn-Size 8 Clover 6"needles each ball produces about 5 fish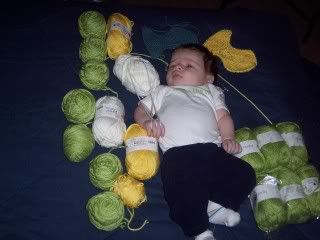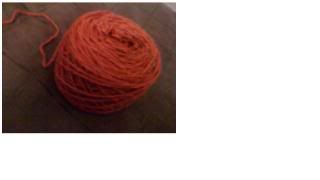 3. Photograph of your swatch OR an explanation of why a swatch is not needed.
I have photographed my swatch along with my supplies.
Blue fish was size 7, yellow size 8….
I was so much happier with the result on size 8, so 8 it is!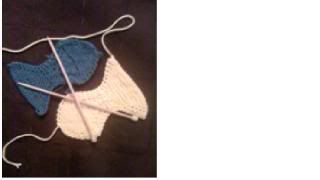 4. Two or three sentences describing the planned crafting sequence and analyzing any areas of potential difficulty or new skills needed.
To prove my proficiency at repelling the Cruciatus Curse, I have chosen a very tedious and fairly large project! I am sure that knitting, seaming, and weaving the ends of 45-60 fish will be very fiddly… and excruciatingly painful! In addition, this afghan will be for my sons' bedroom, making this a selfless knit for someone else. I have had this yarn on hand since before he was conceived, and so I am excited to finally give it use. I will be learning a new skill with the crochet hook, when the time comes to add the border…
I may also add one or two red fish and a red border just for excitement and contrast but will not decide that until the 1/2way point. I will be using this site to plan the color placement, and determine if the red will make the cut: http://www.knittinguniverse.com/flash/webfeatures/paintbo...